Opposition sinks Corran Ferry changes to fares structure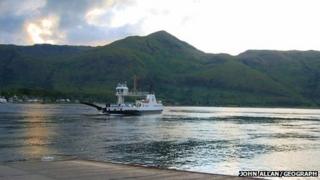 The existing fares structure of the Highland Council owned Corran Ferry in Lochaber could be retained.
The local authority had proposed a new set up which would be cheaper for regular users, but that some feared could punish other groups.
After finding little support for change locally, the council has now suggested leaving the structure as it is. Ticket prices, however, will rise.
The vessel operates between Nether Lochaber and Ardgour on Loch Linnhe.
The single ticket price for all cars is set to rise by 30p.
A pro rata increase for the other categories of users has also been recommended.
Higher costs involved in the running of the route's main ferry, the MV Corran, and reserve vessel, the MV Maid of Glencoul, meant tickets prices have to go up, the council said.
The new fares will be introduced on 1 November, if approved by councillors at a meeting on 19 September.
Unlimited travel
Suggested changes to the fares structure had included introducing a smart card to ease the payment of fares on the busy ferry route, about nine miles south of Fort William.
Highland Council had also proposed offering regular car commuters unlimited travel for £40 a month - provided they paid for by direct debit.
About 80 submissions on the proposals were received from the public.
Concerns raised included that while daily commuters would benefit from the proposed new system, less frequent low-income users, such as pensioners would be left paying a lot more.
A number of submissions to the council also said those on low incomes would be subsidising those in full employment.
There were also fears that tourists could be put off by any increase and that delivery costs and prices in the shops could go up as a result.
'Operating costs'
The ferry allows access to and from the communities of Ardgour, Morvern and Ardnamurchan via a narrow stretch of the loch.
It is also used by people and businesses on Mull, who first travel to the mainland on the Fishnish-Lochaline ferry. The Corran Ferry and Fishnish-Lochaline services also offer tourists an alternative to the Oban to Mull ferry.
Graham Phillips, chairman of transport, environmental and community services, said the council had listened to the local community.
He said: "It is clear that the proposals to change the fares structure did not carry local support."
The councillor added: "The increase in fares is required to close the gap between operating costs and income, as in recent years the operating costs, which include fuel and refit costs for the main ferry and the reserve ferry have increased ahead of inflation."