World record attempt at Big Knit in Dundee falls short but raises thousands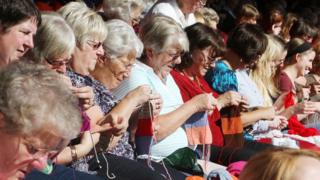 A Dundee attempt to break a world record for simultaneous knitting fell short - but raised thousands of pounds.
The Big Knit 2013 was held at Dundee United's Tannadice Park on Sunday afternoon.
It was hoped 4,000 knitters could take part, with the current record understood to stand at more than 3,000.
In the end, almost 1,200 attended, which is believed to have broken the Scottish record, and more than £3,000 was raised to aid Alzheimer's support.