Stirling Council staff 'signing up for pay deal'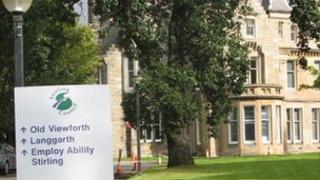 Stirling Council claims the number of its staff now prepared to accept a revised pay deal is approaching 50%.
Members of the Unison union had held a one-day strike at the end of last month in the row over pay and conditions.
The council has proposed a 0.5% pay cut across most pay grades and an additional hour of work per week.
Unison said its members had been signing up "under duress" in order to keep their jobs and pledged "further action".
The union has described the measures as a 1.5% pay cut after council staff across Scotland narrowly accepted a below-inflation 1% pay rise.
Stirling Council chief executive Bob Jack said: "The number of staff who have voluntarily agreed to the changes is heading towards the halfway mark and we expect the numbers to increase rapidly now that Unison is calling on its members to sign up."
He added: "Unison's intemperate claims about 'savage cuts' are a long way from reality. We are asking for an extra hour a week to bring us into line with most other councils and an average £10 a month reduction in pay for most grades, except the two lowest where staff will actually see their pay go up."
The council said a total of 45% of staff had signed a new agreement under which they will be asked to work an extra hour a week.
It said these measures would help save £2.5m, equating to 120 jobs.
Lorraine Thomson, from Unison's Stirling branch, said: "There is nothing voluntary about having to sign up to keep your job - Unison's advice to our members is to sign up under duress to avoid the risk of losing their jobs.
"The campaign will go on to fight these savage cuts to our pay and conditions and Unison will be announcing further action very soon."