Retired Alloa couple celebrate lottery win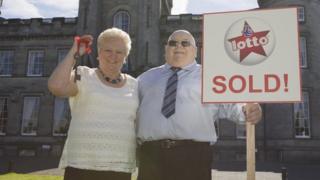 A retired couple who scooped £1.1m in a lottery draw initially thought they won just under £1,000.
James and Catherine Paterson, of Alloa in Clackmannanshire, believed they matched five numbers in Saturday's Lotto draw, netting them £986.
But when their youngest son double-checked the lucky dip ticket on Sunday it became clear they had actually hit the jackpot and won £1,138,746.
Retired school cleaner Catherine, 62, said the news had not sunk in.
"I just couldn't believe it. I was shaking," she said.
"I had been excited when I thought I had won a few hundred pounds but to be told it was over £1m was just beyond belief. We were all sitting there in our pyjamas in a state of shock - not your usual Sunday morning."
'Bigger house'
Mrs Paterson and her husband, a 66-year-old former taxi driver, shared the jackpot with two other winners.
Mrs Paterson, who buys a lottery ticket every week, said: "We are both pensioners and have struggled with ill health so the money will be a great boost for us and help make our lives a little easier.
"We are going to take our time and think about how we will spend our winnings.
"James has always wanted to go to the Seychelles so a holiday is definitely on the cards and we are considering a move to a bigger house."
She added: "It still hasn't really sunk in. I passed my neighbour the other day and had a chuckle to myself thinking I bet they don't realise they are now living next door to millionaires."
The couple have three sons, Douglas, 45, Vincent, 42 and Craig, 40, and are already looking forward to a good Christmas with their family.
Catherine said: "We have eight lovely grandchildren so they have been busy getting to work on their Christmas lists already. In fact, so have our sons who all have new cars at the top of theirs."
The winning ticket was bought at the Tesco Extra store in Alloa. The couple's winning numbers were 4, 14, 15, 17, 21, 31 and the bonus ball was 48.