Bus firm Alexander Dennis staff vote to strike over pay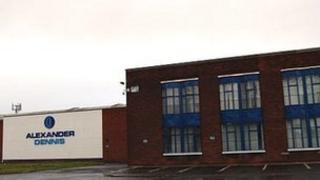 Workers at the UK's biggest bus and coach builder, Alexander Dennis Limited (ADL), have voted to strike.
The Unite union said the action was in response to "dismay" over a 3.5% pay offer.
The Falkirk-based firm, which employs about 2,400 staff in the UK and abroad, reported a 56% rise in pre-tax profits to £24.2m in July.
The company said its latest pay deal meant workers would have received a wage increase of 11.5% since 2011.
The action is likely to affect about 600 of the 800 staff at the Alexander Dennis factory in Camelon, Falkirk.
Since 2011, workers have been given a 4% increase in pay each year. However, this year that figure was cut to 3.5%.
A 48-hour strike is due to begin at 06:00 on Thursday 19 September. An indefinite overtime ban has also been agreed and has already taken effect.
'No choice'
Unite said 75% of the firm's vehicle builders voted in favour of strike action on an 80% turnout.
Lyn Turner from Unite said: "We are dismayed that ADL management think workers who brought the company back from the brink less than four years ago should accept an increase that is below expectation while company profits and executive pay goes through the roof.
"It's testimony to the workers' commitment, modesty and long-term outlook for the well-being of jobs and skills in Falkirk that they are content to settle for the same deal that's been agreed in recent years.
"Instead, the workers feel they have been left with no choice but to strike and the sense of injustice is reflected in the significant turnout and appetite for strike action."
Mr Turner said it was not too late for management to do "the right thing" and return to the negotiating table.
A spokesman for ADL said: "The offer we have on the table means that our Falkirk workforce will have received wage increases of 11.5% since 2011.
"At a time when demand in the UK bus sector is 20% down on 12 months ago - and likely to continue heading south in the next 18 months - we believe this is a more than fair offer."
The spokesman added: "Set against a three-year period when many businesses in our sector have had wage freezes - and with average awards in the UK manufacturing and engineering sector currently running at 2.2%, we would urge Unite members at Falkirk to have a serious re-think before any action is taken later in September."