Man, 26, arrested after car crashes into Dundee house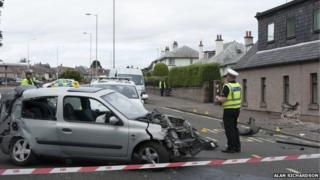 A 26-year-old man has been arrested after the car he was driving crashed into a house in Dundee while it was being followed by police.
Police said the man had earlier failed to stop for officers in Buttars Loan, about a mile away from the crash site at Ancrum Road.
The silver Renault Clio hit the house shortly before 11:00, causing substantial damage and a gas leak.
As well as colliding with the house, the car also hit a parked van.
Officers in a marked police car, which had its lights flashing, were following the Clio when it hit the property.
The driver was taken to Ninewells Hospital following his arrest, although officers said he was not believed to be seriously injured.
The area around the collision site has been closed.
Police in Dundee are appealing to anyone who saw the Renault Clio on its journey to contact them.