Leak fears add to new Dundee Olympia pool bill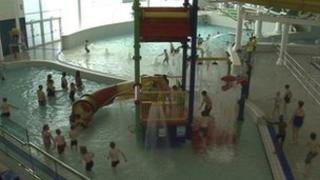 A new swimming pool in Dundee went £2m over budget amid fears it might spring a leak, it has emerged.
Dundee City Council agreed to spend the money making a raft of improvements to the new Olympia pool, including £215,000 improving water proofing.
The estimated cost of the new facility is now expected to pass £33.5m.
More than 105,000 visitors have used the Olympia since it opened in June. It features a 50m competition pool, wave pool, rapid river and a fitness suite.
A report from the council's policy and resources committee stated: "Initial design development and technical specification outputs did not adequately address below ground conditions and water contamination issues.
"As a consequence there was the requirement to amend the waterproofing specification and thickness."
In addition, the council will also spend money making improvements to the pool's car park on Allan Street, making changes to the public seating area and boosting poolside barriers.
Contractor Mansell Construction Services Ltd had initially agreed to build the pool for £31.5m in 2010.
The report added: "The £2.041m additional expenditure is based on the revised estimated final cost of the project and the final account agreed with the contractor."
The council said the additional expense would be met by corporate borrowing.