Work begins to complete Loch Leven Heritage Trail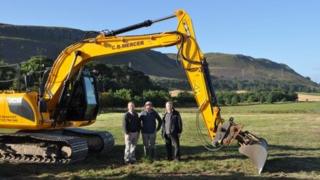 Work has begun to complete a 12.5 mile (21km) heritage trial around Loch Leven in Kinross-shire.
At present ramblers, cyclists and bird watchers can get three quarters of the way round but then face a walk along a busy road, with no pavement, to return to their cars.
Now additional funding has been secured, and after negotiations with local landowners the final 4 mile (6.5km) section is being built.
It is expected to open next spring.
The last section of the £3m trail will close the gap between Vane Farm and Lochleven Mills and includes its highest point - a hillock at the south west corner of the RSPB's Loch Leven Reserve.
All-abilities trail
The Rural Access Committee of Kinross-shire (Tracks), which is running the project, said it would give the trail's best view of the loch and surrounding area.
The final section is to cost £800,000. The principal donor is the Heritage Lottery Fund with further contributions from Scottish Natural Heritage, the Arthur and Margaret Thompson Trust, the Gannochy Trust and Sustrans.
A new donation has been a bequest from the late Jean Lindsay, a member of nearby Cleish Church, who gifted £83,600 to the project.
Neil Kilpatrick, project director at the Loch Leven Heritage Trail, said: "It has taken over a year of patient negotiations with the relevant landowners to get to this stage and now we're very excited that the end is in sight.
"In keeping with the rest of the trail, this final section will feature high quality design helping people to get the best from the natural heritage and historical features of the area."
Reserve manager at Loch Leven, Neil Mitchell, added: "It's terrific news that the last phase of the trail is under way.
"Once it's complete, plenty of people are bound to join the 250,000 plus visitors who already enjoy walks at Loch Leven National Nature Reserve.
"The heritage trail offers an all-abilities trail which will rival anywhere in Scotland, as Loch Leven is an internationally recognised wetland important for its amazing variety of geese, ducks and other wildlife."