Perth Shop robber mistakenly revealed face to CCTV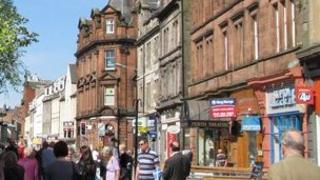 A would-be armed robber who removed his disguise in front of CCTV as he fled the scene of his crime has been jailed.
Graeme Bell, 32, donned a balaclava to hide his face while trying to rob a Perth convenience store at knifepoint.
However, after fleeing the shop he took off the mask in the city's High Street, where his image was captured on CCTV.
Bell, from Perth, admitted assaulting Tahir Chaudhary at Corky's Premier Newsagent in June and was ordered to serve 34 months in Prison.
He also admitted masking his face and brandishing a knife before pushing Mr Chaudhary and attempting to rob him of a sum of money.
When he was arrested, Bell initially denied any involvement in the incident - until he was shown clear images of his face on screen.
Fiscal depute Charmaine Gilmartin said: "The shop was empty, other than the member of staff. [Mr Chaudhary] was stocking shelves when he heard a male voice saying 'give me the money'.
"He turned round and saw the accused standing in front of him. His face appeared to be covered with a balaclava. [Mr Chaudhary] was startled and took a step back.
"He noticed the accused was holding a knife in his right hand. Whilst holding the knife he pushed [Mr Chaudhary] on the shoulder and repeated 'give me the money'".
Mrs Gilmartin said a member of the public tried to intervene after coming into the store.
Taking valium
She said: "He tried to intervene and grabbed hold of the accused. At this point the accused ran out of the store and took the covering from his face.
"The complainer and the male tried to pursue him. The police recovered CCTV footage which showed the accused outside the store without the mask on and he was identified from that.
"Another member of the public also saw the accused standing outside the store prior to the incident with a balaclava in his hand."
Mrs Gilmartin told the court that Mr Chaudhary had been psychologically affected by his ordeal.
Solicitor Billy Somerville, defending, said Bell's mother and grandmother had both died this year and he had resorted to taking Valium.
He said his client was aware of how frightened the victim would have been but claimed he had never gone into the shop with the intention of harming anyone.