Camper attacked by hatchet-wielding Craig Shaw at loch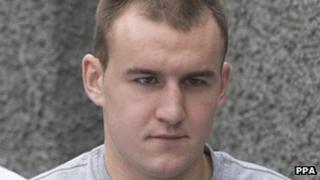 A man has admitted attacking a camper with a hatchet at a Perthshire beauty spot.
Craig Shaw stabbed 25-year-old Barry McCutcheon four times after he tried to act as peacemaker between Shaw and another group of campers.
Perth Sheriff Court heard Mr McCutcheon was left with a punctured lung after the attack on the banks of Loch Earn.
Shaw, who carried out the attack on 16 June, was remanded in custody and will be sentenced on 20 September.
Fiscal Depute John Malpass said Mr McCutcheon and his friends had been fishing and camping on the shores of the loch and were in a tent between Shaw and another group.
He said: "They became aware of a disagreement between the occupiers of the tents either side of them.
"They were asked to calm down and that wasn't received kindly. That group turned their attention to the complainer [Mr McCutcheon] and his friends.
"The complainer and his friends were aware of a shout of 'bring the hatchets.'"
Text messages
Mr Malpass said Mr McCutheon's group began running away from Shaw.
He added: "[Mr McCutcheon] attempted to run up the embankment to his vehicle and he felt a blow on his back.
"This caused him to fall to the ground and he became aware of being stabbed on a number of occasions."
Shaw stabbed his victim at least four times before running off and getting into a car to flee the scene.
Police later recovered evidence from the camp site, including receipts for camping equipment and purchases from other stores in Glasgow.
Officers then examined CCTV footage from the stores and discovered images of Shaw.
Mr Malpass told the court that Shaw, from Glasgow, was arrested and had his phone calls recorded while being held on remand in Perth Prison.
During one call to a friend he was heard to confess to the stabbing and was also heard to say he was guilty of the crime.
Detectives also analysed Shaw's mobile phone and found text messages referring to the attack, along with scenic photographs of the loch taken on the day of the incident.
The court heard that Shaw was the father of an eight-month-old child and was "under no illusion" that he faced a lengthy period behind bars.