Babysitter Scott Bambrick jailed for sex assault on three-year-old girl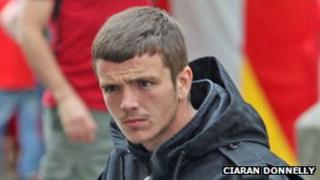 A babysitter who sexually assaulted a three-year-old girl at her home in Stirling has been jailed.
Scott Bambrick was left in charge of the child and her two-year-old brother while their mother went for an evening out in May last year.
A jury at the High Court in Edinburgh heard he had also struck both children with his hand.
The 25-year-old, from Stonehouse in Lanarkshire, was jailed for six years and put on the sex offenders register.
An earlier trial heard that the mother had gone out for the evening, leaving Bambrick to look after her children.
The mother - who cannot be identified for legal reasons - became suspicious after discovering the next day that her son's nappy had been fastened with masking tape.
She found that both he and his sister had badly marked bottoms.
Suspicious bruising
Doctors examined both youngsters and concluded that the injuries were not accidental. Some of the bruises appeared to be finger marks, the High Court in Edinburgh was told.
The little girl also had other suspicious bruising.
Bambrick claimed he did not know how the children were injured but admitted to police that he had given the little girl "a wee skelp", which he said left her crying.
He also said he had smacked the little boy's hand.
In court, Bambrick lodged papers blaming their mother for the state of the children.
However, a jury rejected his denials and also his suggestion that the little girl could have fallen against an up-turned table leg in the untidy house.
He was found guilty of striking both children with his hand and of sexually assaulting the little girl with an unknown object.