Scottish summer boosts wild berry crop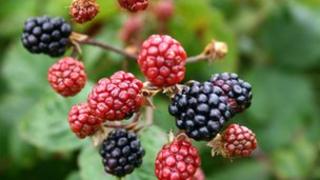 This year's warm summer, combined with Scotland's long daylight hours, has produced a bumper berry crop, according to experts.
Scottish Natural Heritage said the hot weather had helped wild raspberries and brambles thrive across the country.
The fruits have grown particularly well across Tayside, especially in the fertile Strathmore valley.
In Scotland, you can pick wild berries for your own consumption, although not for commercial purposes or for profit.
Compared with recent summers, which have been wet and dull, this year's soaring temperatures have allowed wild fruits to flourish.
SNH said Scotland's many hours of daylight in the summer helped the fruits ripen, creating plenty of flavour for jams and jellies.
'Access rights'
They are hoping that people will use this year's bumper crop and Scotland's access laws as a reason to visit the countryside.
Ashleigh Tooth of SNH said: "Collecting wild berries gets you out and about - and they're free too, of course.
"We have some of the best outdoor access rights in Europe in Scotland, so we should all take advantage and get out into the countryside. Just take care when you're picking the berries that you don't harm the plant."
Mike Cantlay, chairman of VisitScotland, said: "The Year of Natural Scotland is all about getting people out and about enjoying our stunning landscapes.
"We've been lucky enough to have a fantastic summer this year, and I'd urge everyone to enjoy the rest of the year, especially if there is a treat or two along the way."