Dundee's City of Culture 2017 team meets minister Moore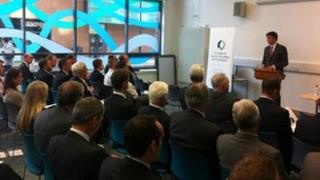 The team running Dundee's bid to be UK City of Culture for 2017 has met Scottish Secretary Michael Moore.
The UK government minister said if the bid was successful it could prompt further development in the city.
Dundee is the only Scottish city to be shortlisted in the competition. Aberdeen failed to make it through to the final stage of the bidding process.
The other finalists are Hull, Leicester and Swansea Bay, with the winner due to be announced in November.
Mr Moore said: "Becoming UK City of Culture 2017 would be a massive boost and a great honour for Dundee.
"With a substantial waterfront transformation project already under way, this award would have the potential to act as a catalyst to encourage further development and economic growth."
Dundee City Council leader Ken Guild said it was "wonderful news" for the city that it had been shortlisted for the title.
Speaking earlier this year he said: "Our's is a people's bid showcasing our strengths, combined with a desire to take forward a new momentum to encourage even more exciting developments for the population of the city.
"Dundee's ambition to be city of culture is based on enthusiastic participation in the arts across our communities.
"Winning City of Culture status would have a huge impact on Dundee and we want to enjoy those benefits for years to come."