Stirling Council staff to strike over pay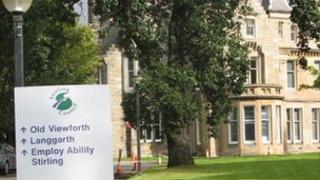 Staff at Stirling Council are to go on a one-day strike on Monday in a row over pay and conditions.
Stirling Council has proposed a 0.5% pay cut across all pay grades, and an additional hour of work per week.
Unison described it as a 1.5% pay cut after council staff across Scotland narrowly accepted a 1% pay rise from government umbrella body Cosla.
The council's chief executive Bob Jack said it was "regrettable" that the union had called strike action.
The union also claimed the extra 7.5 days of work a year meant it amounted to a 4.5% pay cut for most staff.
The council has said it needed to find savings of £24m in order to balance its budgets.
It said this followed a "substantial cut" in funding in real terms from the Scottish government, along with a council tax freeze.
The council added that despite the net reduction of 0.5% in pay, employees on the two lowest grades would see an increase in pay following the implementation of the Living Wage at £7.50 an hour.
It said the additional hour was in line with a standard working week - the same as half of Scotland's 32 councils.
However, Unison expressed disappointment at the council's plans to proceed with a pay cut, despite the national pay award from Cosla for a 1% pay rise.
'Savage cuts'
Unison Stirling branch secretary James Douglas claimed the proposals were "by far the worst faced by any council in Scotland".
"We have been left with no option but to proceed with a strike due to the savage cuts proposed by our employer," he said.
Coming on the back of a "three year pay freeze" it meant a "real terms pay cut of about 13%", he claimed.
The union said it regretted any disruption or inconvenience the strike might cause, but members felt there was "no alternative".
Stirling Council has said its pay offer had "nothing to do with the national pay award" and was within the local section of the national local government contract, meaning it was for individual councils to determine.
Chief executive Mr Jack said: "It is regrettable that Unison called for strike action on Monday. This will only disrupt the lives of the very people that we are committed to providing services to.
"Many times more staff have now accepted the new terms than have voted for industrial action and I would urge all council staff to accept the new terms, allowing us to focus on maintaining the services that we provide to the public who rely on us."
He added: "The council will be taking all necessary measures to maintain services to the public who depend on the services we deliver should the unions persist with this action."
Members of the Unite union are also taking industrial action.