Perthshire teenager Reece Scobie admits 'jetset' fraud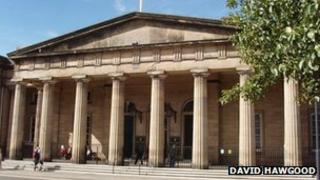 A teenager has admitted spending more than £70,000 on a jetset lifestyle by conning customers while he was working as a travel agent.
Perth Sheriff Court heard how Reece Scobie, 19, booked business class flights to destinations around the world including Singapore and Los Angeles during a six-month spree.
The Perthshire teenager also booked round-the-world trips taking in Dubai, Auckland, New York and Vancouver.
Sentence was deferred for reports.
The court heard how Scobie also lavished tens of thousands of pounds on luxury hotel stays around the country under the nose of his unsuspecting boss.
Company passwords
At one stage while he was being investigated, Scobie even managed to dupe court staff into handing him back his passport which had been confiscated as a condition of bail.
The teenager, who lives with his mother in Rait, had only worked for Thomson Travel for two months but continued to use the company's passwords to book flights and hotels after leaving his job.
Scobie discovered he could still gain access to the travel firm's online booking systems and began to book a series of hotel rooms around the UK.
The court heard that he spent more than a dozen nights at upmarket hotels around the country - including the Hilton chain and the Sofitel at Heathrow on at least five occasions.
Scobie used both his own name and a series of aliases to book the rooms but normally used his own name to check in. On one occasion, he treated two of his friends to a night away in the Sofitel.
While he was in the British Airways lounge at one airport, he discovered that the previous computer user -who worked for Cambridge Business Travel - had not properly logged off.
He scanned their emails and was able to gain access to the company's booking system and used it to book flights to LA, New York, Atlanta and Abu Dhabi and Singapore.
He travelled to Singapore in January 2012 and then went to Los Angeles a fortnight later. He later told police he had used his own credit card to buy food while he was abroad.
While Scobie was in Los Angeles irregularities came to light and his return flight was cancelled, forcing him to borrow cash to pay for a flight back to Scotland.
Scobie admitted two charges of fraud by obtaining services, flights and accommodation while employed at Thomson Travel in Perth.
Asperger's Syndrome
He also admitted that between July 2011 and January 2012 he booked an unspecified number of flights and hotel rooms on the company's account using passwords.
He also admitted accessing the accounts of Cambridge Business Travel and booking numerous flights in January last year. On 18 April this year, Scobie used fake guarantee letters and travel documents and got Perth Sheriff Court staff to hand over his passport.
He had been arrested early in 2013 and had his passport taken by Perth Sheriff Court as a condition for getting out on bail. However, he returned to court and said he had a job in the travel industry and would need his passport.
He was then given the passport back after producing a series of faked documents purporting to relate to his new "job."
Jim Laverty, defending, said his client knew he was at serious risk of being sent to prison because of the scale of the fraud he had carried out.
Mr Laverty said: "I fully accept on his behalf that unless I can convince your Lordship that there is a credible and realistic alternative then you must detain him."
He told the court that his client had been diagnosed with Asperger's Syndrome.
Sentence was deferred for psychiatric and restriction of liberty order reports.