Russell Crowe battering ram exhibited at Duncarron Fort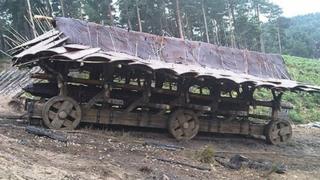 A battering ram gifted by actor Russell Crowe to a Scottish charity is to be moved into position at a replica medieval village in Stirlingshire.
The Clanranald Trust is building Duncarron Fort in the Carron Valley.
Chief executive of the heritage charity, Charlie Allan, became friends with Crowe after meeting him on the set of Gladiator.
The Hollywood star visited the fort project on a trip to Scotland two years ago.
The battering ram, nicknamed Rosie, was a prop in the Robin Hood film released in 2010, in which Crowe starred.
The film also featured members of the Clanranald Trust.
The charity provides extras for battle scenes and organises re-enactments, as well as working on the fort development.
The plan is to create a motte and bailey at Duncarron, typical of a Scottish clan chief's residence, and eventually provide an arena where groups and individuals can experience the atmosphere of an authentic medieval working community.
It is hoped the site would also provide a potential film location.
Rosie the ram was brought to Duncarron in 2009 but has been in storage since.
The Clanranald Trust said a local haulage company had agreed to moved her into position as a permanent exhibit.