Excitement hope for Boring, Oregon, and Dull, Perthshire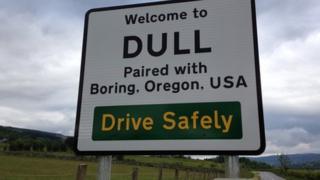 A county in Oregon has proclaimed 9 August as Boring and Dull Day "in perpetuity".
The proclamation honours the pairing of the town of Boring in Oregon and the village of Dull, Perthshire.
Local officials have spoken of their excitement over planned events, including a piper playing and a barbershop quartet singing.
Dull residents have been reported as being appreciative that the link has encouraged Boring visitors.
The pairing of the two communities took place in June 2012, after Perthshire resident Elizabeth Leighton passed through Boring while on a cycling holiday.
Steven Bates, chairman of the Boring Community Planning Organization, said: "On behalf of Boring and Dull, I am grateful to Clackamas County for entertaining this proclamation.
"Boring and Dull Day, as well as the official recognition that Dull and Boring are 'a pair for the ages,' should definitely encourage tourism and excitement for the communities."
A sign erected in Dull marks its association with Boring.
Clackamas County commissioners have said they intend to have a Boring sign produced, with hopes it can be unveiled during Boring's annual Community Celebration in the autumn.
Dull resident Emma Burtles said: "This has really brought the community together. We have received lots of nice emails and, already, a few Boring visitors.
"It is clear it is a match made for the ages, and made in heaven."