Hundreds test out games at Dare ProtoPlay festival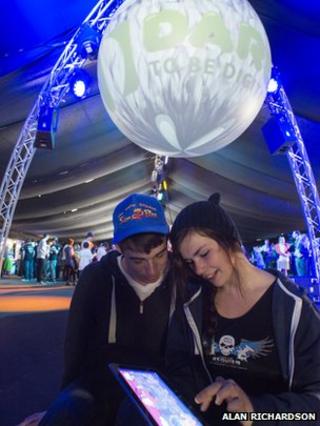 The first day of Scotland's biggest computer games festival has seen hundreds of people try out the latest technology.
The event in Dundee is showcasing industry talent across the world.
Ian Livingstone, creator of the classic Lara Croft: Tomb Raider game, opened the Dare ProtoPlay event alongside Culture Secretary Fiona Hyslop.
The festival is free and runs until Sunday in the city's Caird Hall and City Square.
The four-day event features games created by students for the international Dare To Be Digital competition run by the city's University of Abertay.
Fifteen teams have been challenged to build a game in nine weeks, with three winners nominated for the Bafta Ones to Watch Award for new games talent.
Mr Livingstone said the festival was a "very inspiring event".
He said: "Giving children the opportunity to meet game creators and to show them that their passion for art, design or maths can be harnessed to move from playing games at home to creating their own games as a fun, rewarding career."
Ms Hyslop said Scotland's computer games industry was "undoubtedly one of our global success stories".
She added: "I am particularly glad to see a focus this year on involving women in game development and promoting opportunities for them to get involved and become inspired to realise how their creative talent can help diversify and enhance this fast-growing and exciting market."