Kinross House wins restoration award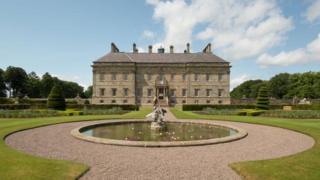 Kinross House has won the 2013 Restoration Award from the Historic Houses Association.
The association said the house and its gardens had been saved from disrepair by Donald Fothergill, who bought the property in 2011.
Overlooking Loch Leven in Perth and Kinross, the building has been described as Scotland's first neo-classical Palladian mansion.
Kinross House was built in 1685 by Sir William Bruce.
The award was sponsored by Sotheby's UK.
Sotheby's Chairman Harry Dalmeny said: "This is a heroic restoration of the grandest classical house in Scotland.
"To see an owner devote such love, care and attention to a house, which will continue as a home, is a thorough vindication of the aims of the award."
Six other properties were commended by the judges.
They were Allerton Castle in Yorkshire, Blenheim Palace visitor centre, Furnace Farm at Bodnant in Wales, Rise Hall in Yorkshire, The Hyde in Tenbury Wells, and The Grove in Essex.
President of the Historic Houses Association Richard Compton said: "The major restoration programme which has been undertaken over the past two years at Kinross has saved and revitalised this hugely important house from deterioration and possible future loss.
"The scale of the renovation is magnificent, and the house can now be seen by more people than perhaps ever in its long history - it is terrific to see the house coming back to life and being filled once again.
"Active use of the house is already having a beneficial effect on employment and incomes in the surrounding area."