Falkirk Council outlines plans for additional 548 homes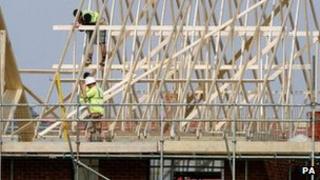 Hundreds of new homes have been promised for the Falkirk area over the next five years.
The additional 548 properties will be provided under the council's ongoing social housing plan.
The local authority will build 104 new homes and 100 former council houses will be sold back into public ownership.
A further 317 will be provided through work with social landlords and 27 through the National Housing Trust.
Financing for the projects will come through existing council funds and new Scottish government money.
The local authority's spokesman for housing, Councillor Gerry Goldie, said: "Providing low cost affordable housing to rent is a big priority for Falkirk Council.
"Our own developments and those of our partners are built to a high standard and are designed for those in most housing need."
But the SNP's housing spokesman, Councillor Steven Carleschi, called for "a more ambitious house building programme with a greater emphasis on one-bedroomed properties and houses rather than flats".
He added that the current Labour/Tory administration had "ignored" the need for family houses will gardens and bungalows suitable for disabled people.