Babysitter Scott Bambrick sexually assaulted three-year-old girl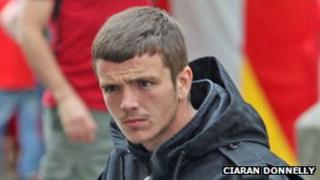 A babysitter has been found guilty of sexually assaulting a three-year old girl at her home in Stirling.
Scott Bambrick was left in charge of the child and her two-year-old brother while their mother went for an evening out in May last year.
A jury at the High Court in Edinburgh also found him guilty of striking both children with his hand.
The 25-year-old from Stonehouse in Lanarkshire was remanded in custody until sentencing later this month.
The court heard the children's mother became suspicious the following day because her son's nappy with fastened with masking tape.
She then discovered both the boy and the girl had bruising.
Bambrick claimed he did not know how the children were injured but admitted to police that he had given the girl "a wee skelp". He also said he had smacked the boy's hand.
But a jury rejected his denials and also his suggestion that the little girl could have fallen against an table leg.
He was found guilty, unanimously, of striking both children, with his hand.
A majority verdict convicted him of sexually assaulting the girl with an unknown object.
Judge Lord Uist told Bambrick that his name would be added to the sex offenders register.
The judge also called for a background reports.