Campaign to save Perth Academy crash memorial pine tree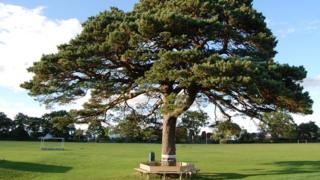 A campaign is under way to save an ancient Scots pine tree which has become a memorial to two brothers who died in a road crash in 2009.
The tree, which could be at least 150 years old, is located in the grounds of Perth Academy.
An application for a preservation order, protecting it from being felled to make way for a new sports pitch, was refused by Perth and Kinross Council.
The Woodland Trust said the tree was the "equivalent to a listed building".
The pine tree is present on the very first Ordnance Survey map, created in 1866.
It has been made into a tribute to former Perth Academy pupil Callum Owen and his brother Ethan who were killed along with their mother in a crash on the A95 near Aviemore in December 2009.
Pupils have organised a 500-strong petition calling for the pine to be saved.
Its fate is now likely to be decided when councillors meet later this month to vote on the planning application for the school's new sports facilities.
Andrew Fairbairn from the Woodland Trust Scotland said: "The council's refusal of the protection order doesn't appear to hold water. Their guidance highlights criteria such as such as size, age and historic significance, that we believe the tree passes with flying colours.
"They seem to be argue that because there are other similar trees in the area that it has no value, but anyone who has seen it will know it stands alone in the middle of the school grounds, and it has a distinctive character that should be recognised.
"Ancient trees support hundreds of species of lichens and invertebrates, and most importantly for the school community this tree marks the tragic death of two young brothers.
He added: "The tree is easily equivalent to a listed building and should be given the same level of protection."
A spokesman for Perth and Kinross Council said: "The council has considered the request for a tree preservation order (TPO) for the Scots pine at Perth Academy in line with its agreed criteria, with primary consideration given to visual amenity value.
"With the many other high quality mature trees around the school grounds, it is not considered appropriate to pursue a TPO in this instance."