Falkirk plan 'could be worth £480m'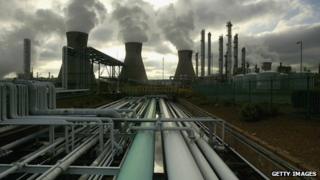 Approval has been given for a plan by Falkirk Council to attract investment to the area.
The Tax Incremental Financing (TIF) scheme is intended to use £67m of public funds to "lever in" £413m from the private sector.
Backers of the plan believe it could create almost 6,000 jobs and hundreds of apprenticeships.
Under TIF, councils can fund infrastructure by borrowing against future business rate income.
The TIF model is backed by the Scottish Futures Trust (SFT), set up by the Scottish government to support public sector investment.
The Falkirk plan includes improved links from the M9 motorway to create more business space and major flood defences to protect the port and refinery at Grangemouth.
'New chapter'
Councillor Craig Martin, leader of Falkirk Council, said: "This investment signals a new chapter for Falkirk as it gears up to play a significant role in Scotland's economic growth, export trade and jobs creation.
"Key infrastructure development will unlock more opportunities in our key sectors of chemicals, manufacturing and logistics, ensuring these high value, job-creating industries can thrive to benefit the whole of Scotland."
Barry White, chief executive of the Scottish Futures Trust, said: "SFT continues to lead the way with the development of TIF across Scotland as an innovative way to unlock future economic growth, as every £1 invested by the public sector has the potential to attract a further £6 from the private sector.
"We have worked closely with Falkirk Council on finalising this agreement since recommending approval of its TIF business case and very much look forward to the positive impact that the investment will make to this region and adjacent areas."