Arrest after bronze theft from Milnathort war memorial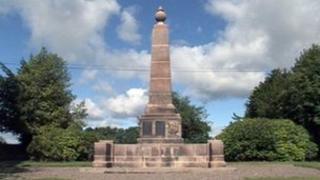 A man has been arrested following the theft of bronze plaques from a war memorial.
The name plates disappeared from the monument in Milnathort, Perth and Kinross, last week.
Three plaques were taken from the Orwell War Memorial in South Street sometime between Thursday 25 and Friday 26 July.
They were recovered in Fife after a scrap dealer called police when two men tried to sell them.
Police Scotland said a 43-year-old man had been detained as part of their investigation.
The theft happened hours after steel fencing had been removed from around the memorial following restoration work.
Businessman Simon Howie, who owns a chain of butcher shops across the country, had offered a £1,000 reward to anyone who could provide information that could lead to the arrests of the individuals responsible.
A Police Scotland spokesman said: "Enquiries in to the full set of circumstances surrounding the incident are ongoing at this time and as such it is not appropriate to comment further.''