Body found in River Tay is confirmed as Mateusz Wilamowski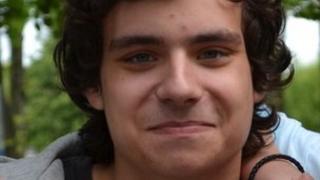 Police Scotland have confirmed that a body recovered from the River Tay on Thursday is that of 16-year-old Mateusz Wilamowski.
The teenager, from Raciazek, in Poland, was reported missing after he was swept away while crossing the river, near Woody Islands, North Muirton, on Sunday 28 July.
He had been living with his aunt, uncle and two cousins in Perth since May.
His father travelled to Scotland after learning of his son's disappearance.
The family issued a statement paying tribute to the teenager and offering their gratitude for the support they had received in recent days.
Speaking on the family's behalf, his father Maciej Wilamowski said: ''Losing Mateusz has left us all devastated.
"He was a bright, happy, wonderful boy, who was popular and made friends easily. It is hard to believe he is no longer with us.
''I want to say thank you to everyone for their support and kind words.
"We are grateful to the police and the fire service and everyone who carried out the search when Mateusz went missing.
"We also wish to thank the man who saw Mateusz in the water so that he was found. And thank you also to the people and the press for the assistance they gave.''