Milnathort war memorial plaques found in Fife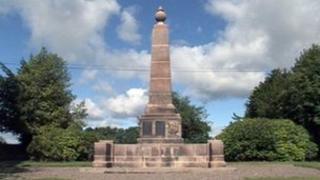 Commemorative plaques stolen from a war memorial in Milnathort, near Kinross, have been found, according to police.
The three plaques were taken from the Orwell War Memorial in South Street sometime between Thursday 25 and Friday 26 July.
The bronze pieces were recovered in Fife and officers have confirmed they matched those missing from the village.
Police Scotland are continuing their inquiries in a bid to find those responsible for the thefts.
Simon Howie, who owns a chain of butcher shops across the country had offered a £1,000 reward to anyone who could provide information that could lead to the arrests of the individuals responsible.
At the time he said: "To think that people fought and gave their lives, then we have these mindless idiots desecrate their memory in this way is sickening and despicable."
The theft happened hours after steel fencing had been removed from around the memorial following restoration work.