Sheriff says T in the Park is 'blighted' by drugs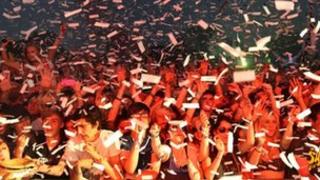 A sheriff has said the use of drugs at T in the Park is a "serious problem" as he jailed a cocaine dealer for six months.
Jamie Robertson, 24, from Lochgelly, admitted being concerned in the supply of cocaine and trifluoromethylpiperazine at T in the Park on 8 July last year.
Perth Sheriff Court was told the Labourer had taken orders from friends and arrived at the Balado venue with more than £700 worth of illicit drugs.
Sheriff Michael Fletcher said the music festival had been blighted by the amount of drugs brought into the venue by dealers like Robertson.
He said: "The courts treat the supply of drugs very seriously indeed. In this case two drugs were involved. It's made even more serious taking into account where this took place.
"There is a serious problem with the amount of drugs being used at these venues and, in particular, T in the Park. I can't deal with it any other way than by a custodial sentence."
Fiscal depute Jim Eodanable said security staff picked out Robertson for a search at the entrance and he immediately tried to get away and had to be detained.
He said: "He was observed to throw a number of items from his pockets into a secure area of the arena. These items were recovered."
Solicitor Ian Beatson, defending, said: "He had been abusing drugs last year on a fairly serious basis.
"He had drug debts and foolishly decided to make money by selling drugs.
"He had arranged to meet friends at T in the Park and had purchased the drugs to sell on to them.
"They were pre-ordered. He didn't intend to supply to strangers.
"He appreciates he has put himself in a serious position and has no-one to blame but himself. This could be considered out of character for him."
The organisers of T in the Park have stressed their commitment to combating drug abuse at the event.
A spokesman said: "Firstly, we have a proactive zero tolerance policy towards drug taking at T in the Park which is upheld through a close working relationship with Police Scotland and the festival's onsite security team, as well as other relevant agencies.
"Secondly, of the 85,000 people that attend T in the Park each day over three days, the vast majority are there to have fun in a safe setting - and as a result are praised publicly by the authorities each year.
"The actions of a few individuals do not represent the overall positive behaviour of our festival-goers."