Butcher's reward to catch Milnathort war memorial vandals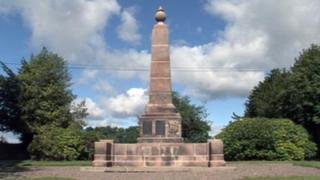 A Scottish butcher has offered a reward to anyone who can help police catch thieves who vandalised a war memorial.
Simon Howie has offered £1,000 to anyone who has information about the theft of bronze plaques from a cenotaph in Milnathort, near Kinross.
The plaques, which held the names of men who fell in the two world wars, were stolen last Thursday.
They were taken hours after steel fencing was removed from around the memorial following a restoration.
Mr Howie said: "This is an absolute disgrace and it's vital that the perpetrators are brought to justice, if only to deter others.
"I want to put up a reward of £1,000 for information that leads to the arrest and conviction of these people.
"To think that people fought and gave their lives, then we have these mindless idiots desecrate their memory in this way is sickening and despicable."
Mr Howie owns a a meat processing plant in Perth as well as a chain of butcher shops across the country, and supplies meat to top restaurants.
Local MP Gordon Banks said: "The memories of those who died to keep our country safe from tyranny are falling foul to a modern day version of what these brave service men gave their lives to defeat.
"I understand that a reward has been offered to assist tracking down these vandals, and while this should not be necessary it displays the feelings of people in the area."
'Awful crime'
Perth and Kinross Council's provost Elizabeth Grant said: "It is awful that criminals would target a memorial to the war dead of the village, and steal plaques which listed their names."
Major Ronnie Proctor, secretary of The Black Watch Association said: "It's very kind and public spirited of Simon Howie to offer a reward, but it shouldn't have happened in the first place.
"This war memorial is not only part of the country's heritage, it is dedicated to the heroic husbands, sons and brothers of locals".
Community group Milnathort in Bloom raised funds to have the Orwell War Memorial refurbished ahead of next year's 100th anniversary of World War I.
Secretary Graeme Stewart said: "I am very happy that Simon Howie has put up a reward and I hope that it will lead to the thieves being caught and even the plaques being returned.
"If not, the plaques will be replaced, because the council's insurance has agreed that they will meet the cost.
"There is no timetable on this at the moment and an initial estimate for the replacement and repair is in the range of £8,000 to £9,000."
Police Scotland have said inquiries were continuing into the incident and urged anyone with information to get in contact.