Talks at Dare ProtoPlay festival hope to inspire girls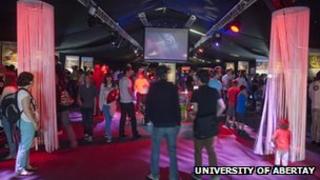 Girls with a love of computer games are being encouraged to consider making a career in the industry.
Free talks at the Dare ProtoPlay festival in Dundee look to highlight opportunities available to girls interested in the sector.
Previous 2011 festival participants Sophia George and Erin Michno will both speak at the event on 8 August.
Both women have since started their own companies and Ms George has won a BAFTA for her Tick Tock Toys game app.
Ms George, London's Victoria and Albert Museum game designer, will share her expertise as an artist and designer.
Ms Michno, co-founder of Quartic Llama will discuss the maths and programming skills games companies need.
Both speakers will discuss how their love of playing games has taken them into successfully making them as a career - setting out the practical steps young women can take to start building their own games.
Shared experiences
Ms George said: "I'm delighted to be returning to Dare ProtoPlay, two years after showcasing Tick Tock Toys as a competitor, to share my experiences and to tell young girls that they can take the step from playing games to building them.
"Too few girls and young women seriously consider games as a career, despite half of all gamers being female.
"The industry is starting to shift and I look forward to more and more girls bringing their creative talents to making games."
Erin Michno said: "Working in the games industry is an incredible creative challenge, as we're solving problems every day that ultimately lead to giving other people fun, enjoyable experiences.
"Girls with a love of art, design or maths may not think making games is a realistic career option for them - we'll explain how they can take that passion and turn it into job opportunities in a wide range of different skills games companies need."
The Dare ProtoPlay computer games festival is open to the public from Thursday 8-11 August in Dundee's Caird Hall and City Square.