Pair found guilty of murdering William Reid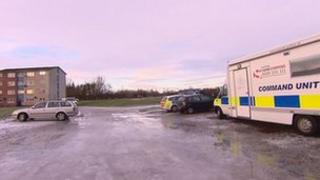 A pair of flatmates have been found guilty of the murder of 27-year-old William Reid.
The pair attacked Mr Reid with a variety of objects including a golf club, a broken vacuum cleaner and a television.
Drew Paterson and Taylor Gordon from Perth then dumped him on open ground, leaving him to freeze to death.
Both will be sentenced to life with the minimum period set at Edinburgh High Court on 27 August.
The pair claimed they had found Mr Reid in their flat after he climbed in through a window and had beaten him up as revenge.
The jury refused to accept Paterson's claim that they had only meant to assault Mr Reid and had dumped his body in a panic when he lost consciousness.
During trial, the jury heard that Mr Reid sustained more than 80 separate wounds including massive head injuries which caused him to lose consciousness.
Dumped body
The duo called in friend Mark Boyd to help them move Mr Reid and they dragged him into Mr Boyd's car before taking him to a football stadium.
They then dumped him at Jeanfield Swifts ground in Perth and Mr Reid lay in sub-zero temperatures for three hours before being discovered.
The trial had to be halted at one point after Paterson fell ill in the dock, when pictures of Mr Reid's injuries were shown to the jury on a large screen.
The jury heard that Paterson and Gordon sent messages to friends bragging about what they had done.
Giving evidence, Paterson admitted inflicting injuries on his victim and leaving him out in the cold but claimed he never meant to kill him and simply panicked when Mr Reid became lifeless.
Pathologist Dr David Sadler told Perth High Court: "There were injuries scattered over most parts of the body, all four limbs, the torso and the head. The injuries to the hands are suggestive of defensive injuries."
Dr Sadler added: "We were told that a golf club, a vacuum cleaner and a television had been involved. A number of items including these were presented to us later.
Numerous injuries
"There were numerous bruises, lacerations and grazes, particularly concentrated around the head, which suggested a series of blows, punches, kicks, stamps and impacts with blunt weapons.
Gordon, 19, and Paterson, 25, both from Perth, had denied murdering Mr Reid, in the city on 7 and 8 December last year.
However, they were found guilty of attacking Mr Reid by repeatedly punching and kicking him on the head and body and dragging him through their flat in Perth.
They placed him in a bath, repeatedly stamped on his head and body, and repeatedly struck him with a golf club, vacuum cleaner and a television.
The court heard how the duo made an attempt to clean up the flat after attacking Mr Reid but made no attempt to get medical help for him.
Paterson had to be warned to be quiet after making abusive comments to the jury when they returned their guilty verdicts.
Lady Clark said: "The jury found you guilty of murder which I'm sure you understand is very serious.
"There is only one sentence that can be imposed ultimately in this case."