Perth hoax caller Grant Robertson happy to go to jail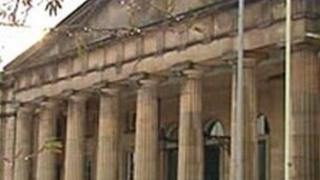 A hoax caller was so happy when a sheriff locked him up that he thanked her and burst into song.
Grant Robertson grinned and launched into a chorus of the Tartan Army favourite "We'll be coming..." as he was led off to prison.
He asked to be sent to jail after he admitted making a dozen nuisance calls to the 999 service when he was drunk.
Robertson, 35, from Perth, was sentenced to six months in prison.
His solicitor Pauline Cullerton told Perth Sheriff Court: "He would not be willing to comply with any order, and rather unusually would wish to go to jail.
"He wouldn't pay a fine or comply with a community payback order and he would simply wish to go to jail to serve a sentence."
'Good news'
Sheriff Lindsay Foulis confirmed: "You wish to go to jail? Well, it is certainly within my power to do that.
"It is perfectly apparent to me that at the time of the offence - and now - alcohol is a considerable factor.
"You will be sentenced to a total of six months."
Robertson replied to the sheriff: "That's not a problem. That's good news."
As he was taken away by G4S officers, Robertson sang: "We'll be coming, we'll be coming, we'll be coming down the road..."
'Great intoxication'
He then shouted at the sheriff: "What about my phone? I want my phone back. You're a Dundee supporter."
Robertson admitted making a variety of spurious 999 calls from Princes Street in Perth on 6 January this year.
Fiscal depute Jim Eodanable told Perth Sheriff Court: "There were 999 calls to the control centre in Dundee. The male stated he was in need of assistance.
"Robertson was traced in possession of two mobile phones. He made a total of 12 calls.
"There had been some failed attempts to dial 999 due to his lack of sobriety. He was in a state of great intoxication."