Arrests at T in the Park increase to 91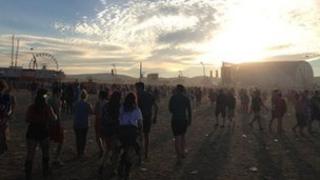 The number of people arrested at T in the Park this year has risen to 91, compared with 30 last year.
Police said the majority of incidents at the festival, which took place at Balado in Kinross, were in relation to minor drugs offences and petty crimes.
There were no reported signs of the fake ecstasy tablets officers had warned could be used over the weekend.
A total of 1,160 festival goers needed medical treatment, mostly for sun related ailments such as dehydration.
The figures were released less than 24 hours after the Scottish music festival finished with a headline set by the Killers.
Event commander, Supt Rick Dunkerley, said: ''While arrests are up on last year, this is due to the proactive efforts of our police officers who worked closely with stewards to ensure it was a safe and enjoyable event for the audience".
He added: ''The fact that there were no signs of the fake ecstasy tablets at the event is in part testament to the extensive pre-event messaging and work carried out in collaboration with the festival organisers.
"But the message that we want people to take away with them is that caution is still required".
Teenager injured
A Fife teenager was reported to have suffered a head injury after falling while dancing on a table at T in the Park.
The 16-year-old was taken to Ninewells Hospital in Dundee after the incident at around 4:00 on Monday.
Police Scotland said he had been seen dancing on a table at the 24-hour breakfast bar in the event's Sunset Strip.
The teenager's condition is being assessed, but it is not believed to be life-threatening.
About 85,000 people attended the three-day event at Balado airfield, with more than 200 acts including Mumford and Sons, Rihanna and Calvin Harris.
Incredible performances
Festival director Geoff Ellis said: "We've had incredible performances from some of the biggest bands around the world as well as some future headline stars, but I have to say that one of my best bookings this year was the sun - and you'll all be pleased to know that I've rebooked it for 2014.
"I also want to thank the T in the Park crowd who have once again proved they are the best in the world with praise coming from so many artists, including Rihanna who said she'd never felt such incredible energy from an audience."
The onsite medical team also said that the majority of visits to the hospital tent were for minor problems such as hayfever and hydration and sunscreen issues.
A spokesman said: "Overall, this has been another successful weekend for us at T in the Park.
"We coped extremely well despite being busy and the audience was in fantastic spirits throughout."