Plan to ban cars from George Square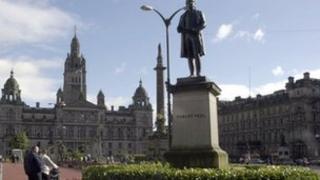 Private cars could be banned from the north side of George Square under plans drawn up by Glasgow City Council.
The proposal would see a bus gate opened to reduce traffic in the area by up to 70%.
Roads bosses also plan to ban all vehicles, except bicycles, from the section of George Square in front of the City Chambers.
They said the moves, which have gone out to consultation, could reduce congestion and pollution in the area.
The bus gate would be introduced at the West Nile Street access to Nelson Mandela Place.
The council said the changes could also improve bus journey times and reliability in the area.
Emission reductions
The existing taxi rank in Dundas Street would be closed with vehicle access restricted to service vehicles only.
However, a new taxi rank with capacity for nine cars is planned on the south side of West George Street between Buchanan Street and Dundas Street.
The east side of George Square, outside the City Chambers, would also be closed to all traffic as part of the order.
An area would be set aside on Cochrane Street between Montrose Street and John Street for tourist coaches visiting the city centre to drop off and pick up passengers.
Traffic reduction
Councillor Alistair Watson, executive member for land and environmental services, said: "This bus gate will see a reduction of around 70% in the current level of traffic.
"As a direct result, there will be a substantial reduction in the degree of congestion and vehicle pollution in the area.
"The reduction in traffic will also lead to improved pedestrian access to the entrance of Queen Street Station and better access for buses to the busy stops on the north side of West George Street."
Neil Greig, of the Institute of Advanced Motorists, said he would be happy to see a high quality pedestrian area, if a full set of plans were drawn up.
He added: "The council is trying to develop the area as a pedestrian location but the proposals are not effective because they have been drawn up bit by bit.
"They need to sort the full plan out once and for all - so everyone knows what is happening.
"The current proposals will see a loss of parking spaces in the area and traffic congestion moved elsewhere.
"The council need to deal with these issues."
The public has until Friday 13 September to lodge any objections to the new traffic restrictions.