Caroline McKay finishes 100-mile endurance run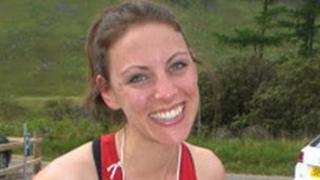 A Scottish woman has completed a 100-mile endurance run in the western states of America .
The event took place in the middle of a heatwave with temperatures reaching highs of 105F (41C).
Caroline McKay, from Edinburgh, was the only Scottish entrant in the annual race which dates back to 1974.
A total of 444 people entered the marathon with more than 110 people dropping out during the race due to the hot conditions.
'Grabbed the chance'
This year's event was the second hottest year that the race has been run.
Ms McKay came 86th overall, and finished 17th out of the women, in a time of 23 hours, 39 minutes and 7 seconds.
"The marathon is an iconic event to be part of," she said. "When I was offered a spot I grabbed the chance.
"It was completely different to what I thought it would be like but I loved every minute.
"The heat was unbelievable and it was at one of the hottest years to take part."
She added: "I would recommend anyone who is offered the opportunity to take part to do so".
Rattle snakes
Caroline grew up on Mull, but has lived in Edinburgh for many years.
Starting in Squaw Valley, California near the site of the 1960 Winter Olympics and ending 100.2 miles later in Auburn, California, the Western States Endurance Run has come to represent one of the ultimate endurance tests in the world.
Following the historic Western States Trail, runners climb more than 18,000 feet and descend nearly 23,000 feet over the duration of the race before they reach the finish line.
The area is frequently remote and can be dangerous as it is inhabited by black bears, mountain lions and rattle snakes.
Competitors run past a memorial to a runner who was killed by a mountain lion about a decade ago.