Salvation Army plan to help addicts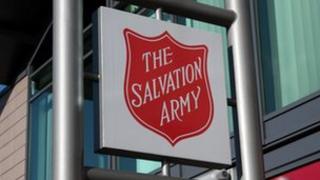 A five-year plan to help tackle drug and alcohol misuse has been unveiled by the Salvation Army.
The charity is to expand its social work to help people achieve long-term recovery from addiction.
It will use a system known as the Community Reinforcement Approach (CRA), which has already proved successful in New Zealand.
Drug and alcohol workers will be placed in three "key" towns - Greenock, Stirling and Falkirk.
CRA is a holistic method which uses the community to encourage a change in a person's drinking habits or drug use.
A personal treatment plan to help improve behavioural skills and employment skills, as well as counselling, will be given to participants in the programme.
Lt Col Ian Barr, from The Salvation Army said: "We are concerned about the social and health effects alcohol is having on families and on the fabric of society in Scotland.
"Today's announcement confirms our commitment to social services in Scotland and to the people we serve".
Research opportunites
He added: "We have drawn together a team with a proven track record in recovery, which will make an impact on the lives of many".
At least one more hub is to be opened across Scotland, as well as a centre of excellence, to provide further training and research opportunities.
Stirling University is also match-funding a researcher with the charity, to assess the needs of people who require support from the programme.
The Salvation Army has committed £250,000 towards the early stages of the programme and made the announcement in Stirling on its anniversary, also known as Founders Day.