Dundee councillors object to plans for biomass plant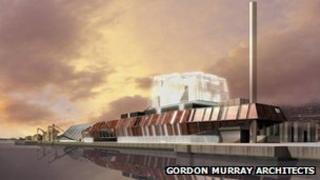 Plans for a biomass plant in Dundee have been rejected by councillors.
Forth Energy wanted to build a facility with the capacity to generate 100MW of electricity.
Concerns had been raised about the levels of local air pollution and the design of the building.
At a meeting on Monday, Dundee City Council's policy and resources committee backed an amendment by Labour councillor Richard McCready objecting to the plans.
It means the planning application by Forth Energy will now be subject to a public inquiry by the Scottish government.
Initial plans for a biomass plants in Dundee were first announced by Forth Energy in 2009.
Environmental impact
A study was launched in 2011 after questions were raised about the environmental impact of the plant.
Concerns had been raised about the levels of nitrogen dioxide the facility would release into the atmosphere.
But results of air quality monitoring and computer modelling, published earlier this year, suggested the increase in NO2 levels would be less than 1%.
Dundee City Council had previously said it would defer its position on the plant until the air quality analysis had been completed.
Director of city development Mike Galloway recommended that the council should not object to Forth Energy's plans.
However, members of the policy and resources committee instead backed Mr McCready's amendment, voting 20 to 6 in favour of opposing the proposals.
Mr McCready said: "My main aim was to try and deliver a public inquiry where all the issues can be considered.
"After listening to the evidence in the constrained way which it is considered in the council committee, there was no clear winner in terms of the debate but there was sufficient doubt about the issue of air quality and the size and appearance of the plant.
"A public inquiry will allow all the issues to be dealt with in an open and transparent manner and I am convinced that this is the best way forward."
A spokeswoman for Forth Energy said: "We note the decision of the committee and will now consider our position.
"Forth Energy's proposed plant would create renewable electricity and heat, would bring significant investment and job creation to the city, and would help put Dundee on the map as a low carbon city."