'Busy' first month for Scotland's Charity Air Ambulance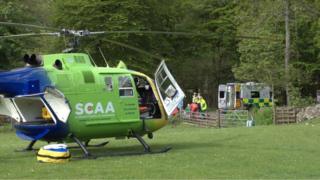 Scotland's only charity-funded helicopter air ambulance has flown more than 40 missions in its first month of operations.
The aircraft, which is based at Perth Airport, is deployed by the Scottish Air Ambulance Service.
On its busiest day it flew three emergency missions within a few hours.
The team behind it said had they had responded to almost double the number of call outs expected since launching in May, but were within budget.
Scotland's Charity Air Ambulance (SCAA) Chief Executive Gavin Davey said: "Our mission times have been shorter than we planned which means we can help and save more people."
The launch of the charity air ambulance was the culmination of four years work by a small team of individuals who pulled together a partnership of public, private and third sector organisations to deliver the additional helicopter service.
Trauma cases
In the first month the crew flew 42 missions all over Scotland, recording almost 3,500 miles in 30.5 flying hours.
Mr Davey said the "hectic start" had exceeded expectations but that they had budgeted and planned in flying hours rather than by number of missions so remained with budget.
He added: "We have established ourselves as a safe, reliable and efficient charity air ambulance very quickly.
"SCAA has flown to save lives and transport casualties to hospitals - the majority being trauma cases.
"We have been all over Scotland to those involved in time-critical emergencies and transported them to hospitals by the quickest possible method in our Helimed 76 helicopter."
The air ambulance has responded to incidents including car and motorcycle accidents, medical emergencies such as heart attacks and breathing problems, trauma emergencies such as serious falls, head injuries and even a light aircraft crash.
SCAA senior pilot Russell Myles said: "Our busiest day to date saw us make three emergency flights within a few hours and our furthest response has been to Mull off the west coast.
"Operations have dictated landings on roads, fields and public spaces such as car parks and games pitches, but we haven't faced too many difficulties and the weather has always been relatively easy-going."
Health Secretary Alex Neil, who officially launched the service last month, said the charity was providing a first class additional resource.
He added: "I know that the service has the full support of the Scottish Ambulance Service with buy-in at every level; an excellent example of partnership working that is already helping even more patients and saving lives."
It will cost about £1.5m each year to fund the aircraft, pilots, paramedics and charity staff.
Mr Davey said: "We have been very pleased by the boost we have received from groups, organisations and individuals who have raised funds for us.
"However, we do need more businesses, trusts and foundations to get behind us to secure this life-saving service for Scotland."