Sheriff criticises 'confusing' anti-bigotry laws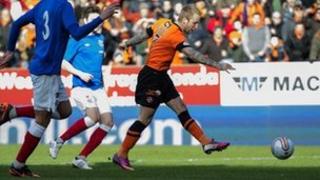 A sheriff has described controversial legislation aimed at tackling bigotry at football matches as "confusing".
Sheriff Kenneth Hogg made the comments after the trial of Richard Scroggie, who was accused of shouting sectarian abuse at a match between Dundee United and Rangers.
Scroggie was cleared of breaching the Offensive Behaviour at Football laws.
But he was fined £150 after instead being convicted of a breach of the peace.
The incident happened at Dundee United's 3-0 victory over Rangers in the Scottish Cup at Tannadice in February.
Two police officers from the Police Scotland Football Co-ordination Unit claimed to have heard former soldier Scroggie sing the Rangers song Follow, Follow, during which he had used offensive lines about the Pope and the Vatican.
But Sheriff Hogg said he was "troubled" by the evidence given by the officers, and cleared Scroggie of engaging in behaviour of a kind which is likely to incite public disorder by shouting, singing and chanting foul and abusive language of religious hatred.
The 48-year-old, from Johnstone in Renfrewshire, was found guilty of an alternative charge of breaching the peace by shouting language of religious hatred at former Celtic player Willo Flood.
Scroggie had admitted to the officers during the match that he had abused Flood - but had strongly denied singing Follow, Follow.
Delivering his verdict, the sheriff said: "The section of the legislation you were charged under is very confusing.
"It is very unhelpful and until some appeals go through we won't get much guidance.
"There is a reasonable doubt about whether you sang Follow Follow, so that takes us back to your original remark only.
"I can't convict you under the Offensive Behaviour at Football legislation because I'm not convinced that that one remark would be likely to cause public disorder."
'Height of stupidity'
Defence solicitor Alasdair Gray said Scroggie had served for 22 years in the army, doing tours of duty in Iraq, Northern Ireland, Afghanistan and Kosovo.
Sheriff Hogg imposed a £150 fine on Scroggie - but refused a Crown motion to impose a football banning order.
The sheriff said: "This was the height of stupidity. I still can't grasp why people shout this stuff - it has nothing to do with football and it has to stop."
Police and prosecutors were given additional powers to crack down on sectarian songs and abuse at football matches under the Offensive Behaviour and Threatening Communications (Scotland) Act in March of last year.
The legislation also relates to threatening behaviour posted on the internet or via mail.
But it has been criticised by some in the legal profession, as well as supporters' groups and opposition politicians, who have claimed the new law is "bad legislation" which has had a detrimental effect on the relationship between football fans and the police.