A lost Mackintosh cabinet returns to Glasgow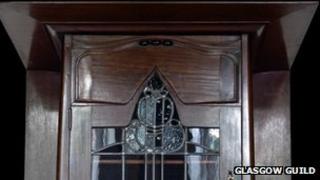 A long lost music cabinet designed by Charles Rennie Mackintosh is coming back to Glasgow.
The antique was discovered by a pair of collectors in a Perthshire auction in January.
The 115-year-old exhibit is believed to have been missing since the 1950s.
The furniture piece is on loan for one year and is part of an exhibition that opens Friday, 21 June at The Lighthouse, Glasgow.
Bailie Liz Cameron of Glasgow City Council said: "We are so excited and thrilled that this lost Charles Rennie Mackintosh music cabinet will go on public show, for the first time in 115 years in Glasgow."
John Cowie, one half of the pair who discovered the item said: "We both felt it was something special and after some research we were pleased to find it was designed by the great man himself."
Since the auction, further research has confirmed its provenance.
The original watercolour of the cabinet design of 1898 is in the Hunterian Art Gallery and is also mentioned in the definitive book on Mackintosh by Roger Billcliffe, where it is described as "not known if executed".
The customer who commissioned the cabinet, a Mrs Pickering, was a member of the Anderson family who owned Scotland's largest department store, The Royal Polytechnic.
The Pickerings moved to Dumfriesshire and it was there in the 1950s that this piece was last seen at auction.