Police in Tayside highlight weekend town centre disorder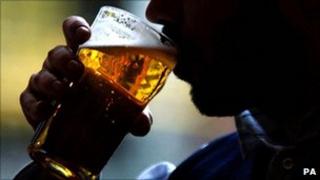 Police in Tayside have raised concerns over an upturn in assaults in town centres last weekend.
Police Scotland said the rise in disorder had been largely fuelled by alcohol and some assaults had left people in hospital.
Officers would be highly visible this weekend, particularly around licensed premises, it said.
Meanwhile, 14 people have been caught since the launch of the division's latest drink and drug driving campaign.
Taking about town centre disturbances, Supt Kevin Lynch said: "Regrettably there was an upturn in assaults last weekend and drinking to excess was undoubtedly an issue.
"This is not something we are prepared to tolerate and our officers will be out in the town and city centres this weekend to deter alcohol-related violence and antisocial behaviour and deal robustly with anyone involved in such behaviour.
"We endeavour to raise awareness about personal safety and reduce crime and anti-social behaviour, but we also need people to be responsible about their own actions and behaviour."
He added that the police patrols would not be exclusive to the busiest nightspots, and officers would also be undertaking these activities in housing estates and villages.
Alcohol measures
Meanwhile, since the division's drug and drink driving campaign started on 1 June, officers have caught 11 drink drivers and three drug drivers.
In once of those incidents a man was arrested for drink driving while he had his two children, aged six and three, in the car.
Insp Grant Edward, head of road policing, warned drivers that measures of alcohol were often bigger at private social events.
"Many of those events, such as impromptu barbecues and large organised events, agricultural shows and Highland Games for example, provide a fantastic opportunity to socialise and relax in a convivial atmosphere.
"People may then unintentionally or otherwise over indulge in drink or drugs. Every driver has a duty to act responsibly and should at all times take into account the amount of alcohol, or for that matter drugs, they have consumed should they plan to drive.
"Reactions are slowed, the ability to perceive dangers is greatly reduced and frankly that is a recipe for disaster.''
He said members of the public had been very supportive in previous campaigns and that about half of those arrested in the past had been as a result of calls from the public.