Tayside officer cleared of hitting girl with police car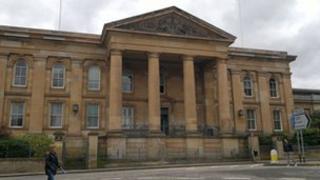 A police officer has been cleared of seriously injuring a man and his seven-year-old daughter by dangerous driving.
Gary Johnston, a serving officer in Tayside, had been accused of driving dangerously while on duty in November.
Dundee Sheriff Court was told the girl's father - who was under the influence of alcohol - had crossed a dark road into the path of the car.
A senior officer told the court the case would never have been prosecuted if it had not involved a police car.
PC Johnston, 27, was driving in Dundee within the speed limit and on the correct side of the road when the crash occurred, the court was told.
An independent witness to the crash on Douglas Road said she thought the man had deliberately walked into the path of the Ford Focus.
Sheriff Walter Mercer threw out the charge - reduced to careless driving by prosecutors on the last day of the three-day trial - saying he couldn't accept the father's evidence because he had been drunk.
He said: "Any driver would have acted the same. It wasn't careless driving - it was the conditions that played their part."