'Drinks saleswoman' drug courier jailed for four years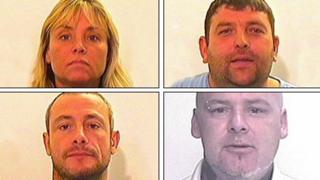 A drug courier who posed as an energy drink saleswoman so she could transport cocaine between Liverpool and Glasgow has been jailed for four years.
The High Court in Edinburgh heard Sharon Carey wore a suit and used a wheeled suitcase on her train journeys.
Tayside Police, acting on intelligence, carried out surveillance on the 45-year-old and this helped them catch three other members of a drugs gang.
All four admitted being concerned in the supply of drugs.
Carey, of Charleton Court, Liverpool, unknowingly led undercover detectives from Tayside Police's Operation Unicorn initiative to drug dealers operating in the Kirkton area of Dundee.
Police arrested Stephen Townsley, 42, on 1 June 2012. He was carrying heroin with an estimated street value of £91,170.
Fellow gang members Christopher Bruce, 36, and John Souter, 40, were arrested on 7 June 2012. They had cocaine worth about £295,895 in their possession.
Onward distribution
The three men and Carey appeared before judge Lord Glennie for sentencing.
Lord Glennie sentenced Bruce to four years seven months, Soutar to five years and Townsley to five and a half years.
At a high court hearing last month, the four had pleaded guilty to being concerned in supplying drugs between May and June 2012.
Carey, along with Bruce, a prisoner of HMP Perth, and Souter, of Beauly Avenue, Dundee pleaded guilty to being concerned in the supply of cocaine.
Townsley, a prisoner of HMP Perth, pleaded guilty to being involved in the supply of heroin.
At that hearing, prosecution lawyer Shanti Maguire told the court that it was believed that the group was responsible for sourcing large amounts of controlled drugs from associates in the Liverpool area for onward distribution.
'New energy drink'
The advocate depute told the court that police noticed that Carey travelled by train between Liverpool and Dundee on three different occasions between May and June last year.
She added: "She travelled to Dundee posing as a representative of an energy drink company."
Ms McGuire said officers established that she would travel by train as far as Leuchars train station in Fife, but would then take a taxi to Kirkton, Dundee.
The court had heard that on 25 May 2012, Carey asked the driver in Leuchars to take her to an indoor football complex called Soccerworld.
Ms Maguire said: "The accused Carey stated that she was expecting to be picked up from Leuchars station but the person collecting her had not turned up.
"During the journey the accused Carey said she was going to Soccerworld to market a new energy drink that had zero calories and had a lemon and ginger flavour."
When arrested by the police, Carey had initially claimed she was in Dundee to shoplift.
On Wednesday, the court heard how the four had acknowledged their guilt and accepted that they would all be jailed.
'Significant disruption'
Sentencing, Lord Glennie told the four drug dealers that he had no other option but to pass prison sentences on them.
Following sentence, Police Scotland Temporary Det Insp Scott Thompson, said Operation Unicorn had caused significant disruption to a local serious and organised crime group.
''We recovered around six kilos of cocaine as part of our intelligence-led operation, as well as almost a kilo of heroin," he said.
"Our intervention means that none of it will ever reach the streets of Dundee and the surrounding area and that is good news for our communities."
He added: "I would ask the public to share our vigilance and intolerance of drug dealers. If there is drug dealing going on where you live - tell us.
''Your information, however small or insignificant it may appear can sometimes be the final, precious piece of the puzzle that we need to take action.''