Perth teenager who grabbed bus steering wheel detained for four months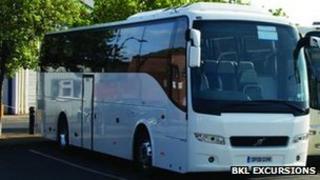 A teenager who endangered the lives of 70 bus passengers by grabbing the steering wheel as it travelled along the A90 has been locked up.
William Duff, then 19, seized the wheel of the 14-tonne coach while it was travelling between Dundee and Perth, near Glendoick, on 29 December 2011.
Sheriff Michael Fletcher said the potential consequences of his act were "too terrible" to imagine.
At Perth Sheriff Court, he sentenced Duff to four months detention.
The court was told how the coach, packed with late night revellers, veered across the dual carriageway at 60mph as a drunk Duff grappled with the driver.
Driver Lee Buckley had to kick Duff away during the incident on the trip home from Fat Sam's nightclub in Dundee.
He regained control of the bus and was eventually led back into Perth by a police escort.
When the bus stopped, Duff, now 21, tried to flee by jumping out of the emergency exit.
Fiscal depute John Malpass told the court: "If it wasn't for the quick reactions of Mr Buckley there could have been serious consequences."
Solicitor David Holmes, defending, said Duff had been using cannabis from a very young age and was so drunk on the night in question that he did not realise why he had been arrested.
Terrible repercussions
Duff, from Perth, was found guilty of culpably and recklessly endangering the lives of people on a bus by grabbing the steering wheel.
Sheriff Fletcher said: "The consequences of your actions - but for the actions of the driver of the bus - could have been very serious indeed.
"There was a very large number of young people on the bus and no doubt most were under the influence of alcohol.
"If that bus had gone off the road or collided with anything else the consequences would have been too terrible to think about."
He added: "I have come to the conclusion that I cannot deal with this any other way than by a custodial sentence."