Falling gold prices delay plans to reopen Cononish mine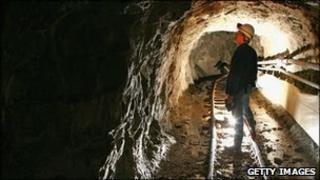 Plans to reopen the Cononish mine near Tyndrum in Stirlingshire have been delayed due to falling gold prices.
Scotgold Resources said the project remained viable and would generate a cashflow of more than £39m before tax over its first seven years of operation, at current gold prices.
But it warned that the fluctuating price had dented market confidence.
As a result, Scotgold said it had decided not to seek further funding for the scheme until conditions improved.
A study has predicted that once operational, the mine could produce up of 20,200 ounces of gold a year.
At current prices, that would give the Cononish project a rate of return of about 37% before tax and see the initial investment repaid within 26 months of the start of production.
However, Scotgold said the market remained wary after gold prices fell by more than 9% at the beginning of April, the biggest drop for 30 years.
Challenging market
The depressed market has made the company reconsider plans to seek additional funds to bring the mine into full production.
Executive chairman John Bentley said: "The recent sharp decline in the gold price has severely dented market confidence, albeit that there has been significant positive movement since the lows recorded on 15 April 2013.
"The potential to raise the required equity financing for the project is considered to be severely challenging under current market conditions.
"The board has thus decided to defer an immediate raise pending an improvement in market sentiment."
Mr Bentley said the firm would now not be approaching investors until the gold price "calms down".
Last November, the mining company secured a pre-development loan worth nearly £1.2m from RMB Resources to help continue the drilling programme at the mine in the Loch Lomond National Park.
Considering options
Mr Bentley said RMB still backed the scheme and was "evaluating project debt capacities under a range of varying gold price scenarios in order to assist the company in evaluating an optimal approach to financing the project".
He added that Scotgold would continue efforts to get the mine into full production.
Mr Bentley added: "We are considering a number of strategic alternatives with a view to advancing the project and achieving the overriding objective of delivering Scotland's first commercial gold mine.
"Importantly, with all the work that has been completed on the planning conditions and the tailings dam design, the mine is capable of producing first gold within 15 months of funding."
Scotgold maintained that the Cononish mine was "ready to go" but that the project would only go ahead once the full amount of the investment needed was raised.
It added from then, it would take 15 months to get into full production, meaning mining will not start until end of 2014 at the earliest.