Ryder Cup at Gleneagles sees record number of people wanting to volunteer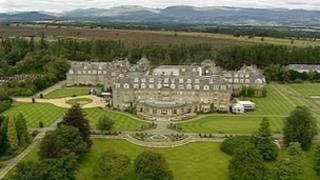 Organisers behind the 2014 Ryder Cup at Gleneagles have selected nearly 2,000 volunteers to help run the event.
It follows the largest number of applications ever received for a volunteer programme in the competition's history.
Ryder Cup Europe said 17,500 people had applied from 27 different countries.
Applicants will find out on Tuesday whether they are one of the 1,800 who have been selected. About half of those chosen live in Scotland.
The successful volunteers will carry out a variety of roles at next year's event in Perthshire, including game marshals, park and ride volunteers, crowd safety marshals, bus ambassadors, programme and radio sales assistants, buggy shuttle drivers and media centre or merchandise pavilion assistants.
Essential element
European Ryder Cup captain Paul McGinley said: "I am delighted to welcome each and every one of the 1,800 people who have volunteered to be part of the experience at Gleneagles next September.
"No golf tournament could exist without volunteers and that is especially true in terms of a competition of the size and magnitude of the Ryder Cup, so I thank them all for their participation.
"Success in The Ryder Cup is all about great teamwork inside the ropes, but it is just as important to have great teamwork outside the ropes too, and I know we are set to have that at Gleneagles."
Most of those wishing to volunteer have come from Scotland, England, the US, Wales and Ireland.
Antonia Beggs, operations director for event, said: "The level of applications for our volunteer programme is unprecedented and we would like to thank everybody who took the time to apply.
"The process demonstrates the extraordinary appeal of the 2014 Ryder Cup, both in Scotland and throughout the rest of the world.
"It truly is a unique sporting event and people just want to play their part."
She added: "The Ryder Cup volunteering programme differs somewhat to those of larger events and therefore our selection criteria included specific qualifications and skills in many cases.
"Our volunteers will set the tone for the event and will be responsible for helping to welcome the world to Scotland in 2014, meaning finding those with a positive attitude and genuine desire to be involved in one of the world's greatest sporting events was a priority."
Global response
Along with their volunteering duties, each volunteer will be get at least a half-day of viewing time on course during each day of the competition.
Sport Minister Shona Robison said: "The fantastic response to the Ryder Cup volunteering programme, from both Scotland and around the world, shows just how much global interest there is in a Ryder Cup in Scotland, the Home of Golf.
"We are currently developing a new and separate scheme with the event organisers that will open up extra volunteer places at the 2014 Ryder Cup and will announce further details later this year."
Councillor Ian Miller, leader of Perth and Kinross Council, added: "The 2014 Ryder Cup will draw the world's attention to the Perth and Kinross area and the volunteers will play a pivotal role in ensuring visitors enjoy themselves and leave with a positive image of Perth and Kinross, and of Scotland."