Osprey lays fourth egg at Perthshire nature reserve, surprising staff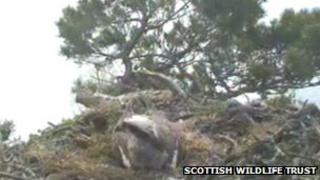 A female osprey, thought to be the UK's oldest, has surprised staff at a Perthshire nature reserve by laying a fourth egg.
Rangers at the Loch of the Lowes, near Dunkeld, spotted the newest addition to "Lady's" nest on Saturday morning.
Osprey clutches with four eggs are considered quite rare. The number of eggs is even more remarkable given Lady is thought to be 27-years-old.
The last time she laid four eggs was in 2005.
Generally ospreys lay two eggs in their first breeding season and three eggs in subsequent years.
Scottish Wildlife Trust Ranger Emma Rawling said the egg was spotted on a web cam by staff monitoring the ospreys' nest.
'Remarkable achievement'
She said: "We were not even remotely expecting a fourth egg so didn't zoom in close on the eggs.
"This is not the first time this female has done this - she laid four eggs in 2005, and of course in the years before close up nest cams, when we had to wait until we could see the chicks heads above the nest rim, there may have been other incidents of this.
"However, it is considered rare in ospreys, and is a remarkable achievement."
Osprey expert Roy Dennis, said: "Very rarely in Scotland we find four eggs laid, but this only happens when the female is in exceptionally good condition."
During a study in which he surveyed 495 clutches, Mr Dennis found only 1% had four eggs.
Staff said that the new arrival does not necessarily mean Lady will rear four new hatchlings.
Disadvantaged start
Researchers in the USA found that fourth eggs are generally smaller than those laid earlier - up to 10% smaller on average.
Ranger Rawling said: "This means that a fourth egg chick will not only be more than a week younger than its older sibling, but also smaller and therefore at a considerable disadvantage.
"In 2005, sadly the fourth hatchling at this nest only survived a few hours."
"If all chicks do hatch, there is enormous pressure on the male osprey to provide enough food for such a huge family."
She added: "As far as I know there has only been one recorded incidence in Scotland of an osprey pair successfully rearing four chicks to fledging - at the Tweed valley Osprey Project in 2005."