UK's oldest osprey lays third egg at Perthshire reserve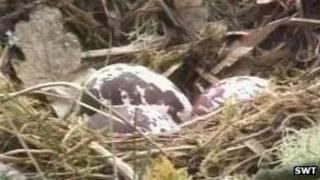 Staff at a Perthshire nature reserve have discovered more eggs at the nest of an osprey thought to be the oldest in the UK.
The female raptor, named "Lady", surprised rangers by laying her 65th egg last Thursday at the Loch of the Lowes reserve in Dunkeld.
Staff monitoring her nest have reported she has now laid a 66th and a 67th.
If any of the eggs hatch, the chick will be the 50th that Lady has reared at Loch of the Lowes.
Ospreys usually lay a clutch of three eggs, which are incubated for about five weeks before they hatch.
Scottish Wildlife Trust said the earliest they would expect to see a hatchling is 25 May.
The latest egg was spotted by rangers in the early hours of Wednesday.
Staff are monitoring the nest via a webcam and security cameras to ensure the birds and their eggs are protected from human disturbance.