Perthshire osprey 'Lady' lays first egg of season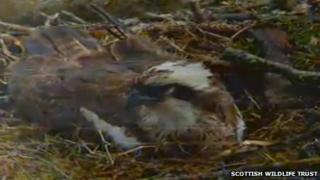 An osprey thought to be the UK's oldest breeding female has laid her first egg of the season.
Lady's egg was spotted by staff and visitors at the Loch of the Lowes reserve in Dunkeld, as they gathered around the live webcam.
It is her 65th egg in the 22 years she has been returning to the reserve.
A spokeswoman said: "It had been 20 days since her return to Lowes so we were all getting a bit anxious to say the least."
The first glimpse of the egg, at about 12:00, was cheered by staff and visitors.
Experts at the reserve said that despite high winds and an intruder osprey in the vicinity, the female osprey had been "showing signs of egg-laying behaviour".
SWT ranger Emma Rawlings told BBC Radio Scotland's Newsdrive programme that Lady, who is thought to be about 27-years-old, surprised them every year.
"To have a bird still breeding at this age is remarkable," she said.
"We don't really have any comparisons, so we don't know how long she can go on.
"She has certainly exceeded all records that we know of for breeding ospreys."
With ospreys incubating eggs for between 35-40 days, rangers hope to see a hatchling at the end of May.