Dundee diabetes research centre boosted by fundraiser campaign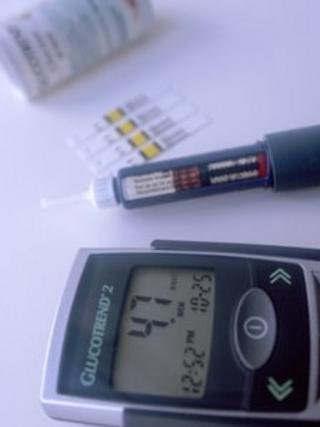 A dedicated diabetes research centre looks set to be built in Dundee after a fundraising campaign raised more money than expected.
The Diabetes Research Campaign was launched in 2007 to help support research into the disease.
Fundraisers have brought in £3.5m, £500,000 more than originally expected.
An additional £11m in follow-on funding has also been secured to help build a Diabetes Translational Research Institute at Ninewells hospital.
The campaign was launched to help support the University of Dundee's efforts to develop a research programme focusing on the cause and treatment of diabetes.
It will also see funds directed at improving clinical research facilities at the Perth Royal Infirmary and Dundee's Ninewells Hospital and Medical School.
Local support
Chairman of the campaign and Perth businessman, Michael Archibald, said: "In completing the funding towards this campaign I would like to thank all those who gave some of their time, effort and money towards diabetic research in Tayside.
"From swimming across the Tay, to concerts in the new Perth Concert Hall to holding marathons in Dundee, so many people and organisations became more involved in moving our fund along until it reached its total.
"Everyone has helped us achieve a goal that required a tremendous community effort and as a diabetic I thank everyone from the bottom of my heart for their interest in what is still a very worrying and difficult condition."
The new Dundee centre would be given the task of taking research from the lab bench to the bedside, "translating" basic science in the laboratory into better treatment for patients with Type 1 and Type 2 diabetes.
Scottish advances
Dr Rory McCrimmon, who heads up a Type 1 diabetes research team, said: "Until we do find the cure - which is very much a when and not an if - we are passionate about developments in treatments which minimise the complications for people who have Type 1 diabetes.
"We are proud that, with research projects like this, Scotland is fast becoming the centre for research into Type 1 diabetes."
A 2012 Scottish Diabetes Survey showed there were 247,248 people with diabetes in Scotland.
The figure represents nearly 5% of the population and suggests the number of people in the country who are developing diabetes is increasing dramatically.
Rates of both Type 2 diabetes, which usually affects people over the age of 40, and Type 1 diabetes, which usually affects children and young adults, are increasing for reasons that are still not completely known.
Overall, the number of people with diabetes in Scotland is estimated to be rising by about 10,000 each year.