Crown considers appealing Celtic fan's not guilty verdict over Dundee disorder charge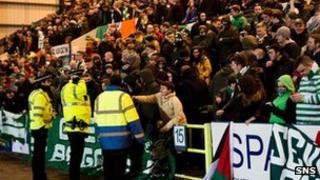 Prosecutors are considering appealing the not guilty verdict in the trial of a Celtic fan caught singing a pro-terrorist song at Dundee's Dens Park.
Dion McLeish was cleared at Dundee Sheriff Court of inciting public disorder during Dundee's Boxing Day match against Celtic.
Sheriff Richard Davidson said the legislation under which he was being tried was "horribly drafted".
The Crown Office is considering an appeal over the verdict.
Mr McLeish, 20, from Clydebank, was filmed by police officers at Dundee's Dens Park ground on Boxing Day singing the song "Roll of Honour", which celebrates IRA and INLA hunger strikers during the Troubles.
But Sheriff Richard Davidson ruled during the trial last week that police officers could not give "opinion" evidence that the song was linked to proscribed terrorist organisations, and then described the new anti-sectarianism legislation McLeish was tried under as "horribly drafted".
The Crown Office and Scottish government have insisted the laws were "working well" and "taking a hard line on sectarianism".
Denominational schools
The Scottish government said the legislation would be reviewed at the end of the coming football season, with a report to go before the Scottish Parliament by the following summer.
Prosecutors have asked for reports to be prepared as they consider an appeal against the ruling in Mr McLeish's case, in which the sheriff stated sectarianism should be tackled by abolishing denominational schools.
A Crown Office spokesman said: "The Crown notes the sheriff's decision in this case. Crown counsel has asked the procurator fiscal for a report in order to consider an appeal in light of the sheriff's comments."
Sheriff Davidson, speaking during a legal debate at Mr McLeish's trial, criticised the laws.
He said: "In this context I think that potentially those who attend Murrayfield and sing Flower of Scotland - there might be a problem."
Not concerned
Referring to the legislation, Sheriff Davidson said: "Somehow the word mince comes to mind."
Mr McLeish was one of four fans who had been arrested at the match, with a further supporter reported to the procurator fiscal.
Finding the 20-year-old not guilty, Sheriff Davidson added: "I've been attending football matches since 1957 and there is nothing I've seen in this particular case that would cause me the slightest concern.
"Sectarianism is a blight on Scottish society, but this isn't the way to tackle it. The way to tackle it is to do away with denominational schools.
"If they can proscribe a list of songs which people are banned from singing, they will find the courts are full and the football grounds are empty."